There's something for everyone in our programming and events! Please see below for our upcoming programs and…
Upcoming Programs
2018-19 Winter Bulletin is now available for viewing of details
2019 Spring/Summer Bulletin is now available for viewing of details
BRANCH MEETING MONDAY, APRIL 22, 2019
9:30 – 10:30 MONDAY INTEREST GROUPS
Please see Bulletin page 18
BOOK DISCUSSION Heritage Room
The Beauty of Humanity Movement by Camilla Gibb
Discussion Leader: Elaine KirkIn Hanoi, three main characters are connected to the
intellectuals who founded a heretical literary journal.
Maggie Ly travels to Hanoi to learn about her father's
disappearance. Her story intersects with a soup seller
and a tour guide. As scenes move, the writer offers a
look into North Vietnam's past.
GREAT DECISIONS Presidents' Hall
Topic: The Rise of Populism in Europe
Leader: Joyce Prudden and Barb TaftMass migration has abetted the rise of populist parties in
Europe. Opposition to immigration drove support for
Brexit, brought a far-right party to Germany, and
propelled Marine Le Pen to win a third of the vote in the
French presidential election. These parties are illiberal,
anti-American, anti-NATO and pro-Kremlin, a matter of
concern for the national interests of the United StatesHANDWORK/CRAFTS Dining Room
Topic: Beading
Leader: Ann Vanvick
Make a one-of-a-kind beaded name tag or glasses holder
for yourself ($5), or make one to be sold to raise funds
for our branch.

KNOW YOUR DEVICE Minnesota Room
Facilitator: Alice Heth
This users group will answer each other's questions
about smart phones, iPads, and technology mysteries.

SPECIAL OUTREACH PROJECT Minneapolis Room

Facilitators: Deborah Croker Treece and Nancy Sjoquist
Join in assembling Roadside Kits containing toiletries
and resource lists to pass out to those in need.

10:45 – 11:45 LITERATURE 
Sisterhood of War: Minnesota Women in Vietnam
Speaker: Dr Kim Heikkila, PhD, Author and Owner of
Spotlight Oral History
Approximately 9,000 United States military nurses served
in the Vietnam War. The women did not serve in combat
but encountered the consequences of war and struggled
once they returned home, particulary with post-traumatic
stress disorder. In Minnesota, a handful of nurses banded
together to support each other and promote the Vietnam
Women's Memorial. Heikkila will discuss this unique
sisterhood.

11:45 – Noon ANNOUNCEMENTS
12:00 – 1:15 LUNCHEON

1:15 – 2:15 THE ARTS 
Thursday Musical Student Program
What is more rewarding than listening to talented young
musicians perform? Some of the winners of the Thursday
Musical Student Scholarship Competition will appear on
our stage today. Winners have received more than $20,000
in music scholarships. So sit back and enjoy. Let the music
begin!

Monday, April 29, 2019

8:30 – 9:30  COLLECTION OF CLOTHING
A truck will be parked in front of the Gale to receive your donations to From Me to You.

International Day
VIETNAM
Come experience Vietnam through its rich history and a
war that reshaped not only Vietnam but the world.
Come experience Vietnam through its culture, traditions,
beliefs and, of course, its food.
Come experience Vietnam through its people who have
added joy and beauty to our world.

9:30 – 10:30 The Other 80% of the Truth About the Vietnam War
that was Omitted by the Press
Speaker: Dr. Ha Tuong, Author, Teacher, Principal,
former Officer of the Army of the Republic of
Vietnam
Ha Tuong will give us an overview of Vietnam history
from China's 30 centuries of domination to French and
then American colonization. Ha Tuong has authored a
book on the history of Vietnam and is at present working
on a memoir about the war from the Vietnamese
perspective.

10:45 – 11:45 Vietnam and the Vietnamese Community in Minnesota
at a Glance
Speaker: Phuoc Thi Minh Tran, Librarian, Storyteller and
Author
Phuoc Thi Minh Tran is the first Vietnamese librarian in
Minnesota, a storyteller, and a published author. She has shared her experiences and knowledge of Vietnamese
culture at various cultural events, storytelling programs,
conferences, libraries, universities, colleges, and schools
throughout the state. She will share with us the richness of
Vietnamese culture.

11:45 – Noon ANNOUNCEMENTS
12:00 – 1:15 LUNCHEON

1:15 – 2:15 
Vietnam: Culture and Arts
Speakers: Sean Cusik and Trang Cusik, Creators of 3-D
Pop-up Art
Our speakers will show us some of the many beautiful arts
of Vietnam, made by the people who have preserved and
now share their culture through these arts. We'll have the
opportunity to know Trang and Sean of DRAGONFLIES
AND CARDS. Their incredible creations of pop-up cards,
quilling, and bamboo arts will be on display and available
for purchase throughout the day.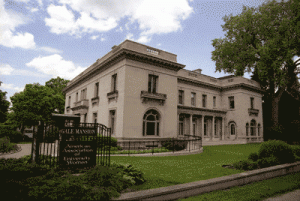 To learn how you can rent the Gale Mansion and use its renowned catering services, go to www.galemansion.com or visit the Gale Mansion facebook page!