There's something for everyone in our programming and events! Please see below for our upcoming programs and…
Not a member yet, but would like to sample a program?  Call 612-870-1661 or email aauwmpls@galemansion.com

Monday, October 25, 2021
We are currently wearing masks except when seated for lunch.
9:30 – 10:30              MONDAY INTEREST GROUPS
Please see the Bulletin page 21
LITERATURE BOOK DISCUSSION                  Heritage Room
Meet Me at the Museum by Anne Youngson
Discussion Leader: Elaine Kirk

BEADING               Dining Room
Leader: Ann Vanvick

TRAVEL                Presidents' Hall
Topic: Magnificent Albatrosses of Midway Atoll
Leader: Jan McLandsborough
10:45 – 11:45           I AM WOMAN                Presidents' Hall
Working for Women in the Minnesota State Legislature
Speakers: Representative Kelly Moller (DFL)
Representative Marion O'Neill (GOP)
Senator Kari Dziedzic (DFL)
Women at the Legislature are shaping policy and making a
difference in the lives of Minnesotans. In this presentation,
Representative Moller, Representative O'Neill, and Senator
Dziedzic will talk about "legislating while female"—how
being a woman has affected their paths to getting elected,
the bills they've carried, and their fight for a massive
overhaul of Minnesota's criminal sexual conduct statutes.

11:45 – Noon ANNOUNCEMENTS
LUNCHEON

1:15 – 2:15            THE ARTS               Presidents' Hall

Art Appreciation: Unexpected Inspiration and Influences
Speaker: Heidi Libera, Marketing Director, Art Director,
Designer, Artist, and Publishing Contributor
Libera will share stories of her lifelong journey as an
artist, while balancing her family life and professional
life as a creative director and marketing director. She
chose a somewhat adventurous path of unexpected
friendships, influences, opportunities, and inspiration.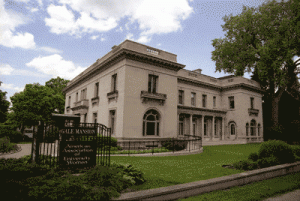 To learn how you can rent the Gale Mansion and use its renowned catering services, go to www.galemansion.com or visit the Gale Mansion facebook page!

AAUW is a top-rated 501(c)(3) charity. Donations are tax deductible. Tax I.D. #41-0414590