There's something for everyone in our programming and events! Please see below for our upcoming programs and…
Upcoming Programs
2019 Current Bulletin is now available for viewing of details
Winter Bulletin is now available for viewing of details
Monday, January 27, 2020

9:30 – 10:30 MONDAY INTEREST GROUPS
Please see Bulletin page 18
BOOK DISCUSSION Heritage Room
Washington Black by Esi Edugyan
Washington Black is the story of an eleven-year-old slave who knows no other life than the Barbados sugar plantation where he was born. When Christopher Wilde, or Titch, chooses Washington Black as his manservant, the two men begin to see each other as human. The themes of racism, love, hatred, cruelty, and dignity pervade the novel. The complexity of the
novel makes for an enchanting tale that is a page turner to its ending.
Discussion Leader: Sheryl Sostarich
HANDWORK/ CRAFTS Dining Room
Activity: Pine Needle Baskets
Leader: Sharon Larson
HOT TOPICS Founders Room
Leader: Lil Lindsey
Join us for lively interactive discussion on newsworthy events and more.
KNOW YOUR DEVICE Minnesota Room
Facilitator: Alice Heth
This users group will answer each other's questions about smart phones, iPads, and technology mysteries.
TRAVEL Presidents' Hall
Ann Carlson will describe her trip to Sierra Leone. She
helped set up the program for a newly-finished
secondary school which will make a difference in the
lives of thousands of families.
10:45 – 11:45 EQUITY, EQUALITY, and JUSTICE
Criminal Justice Reform
Speaker: Jason Marque Sole, PhD, Professor at Hamline University
The inequity of our criminal justice system demands reform in order to make fair treatment a reality for all people. This former president of the Minneapolis NAACP and current Professor of Criminal Justice knows this issue thoroughly. Sole's memoir, From Prison to PhD: A Memoir of Hope, Resilience, and Second Chances, attests to that.
11:45 – Noon ANNOUNCEMENTS
12:00 – 1:15 LUNCHEON
Community Outreach Committee Association Room
New Members Fellowships Room
1:15 – 2:15 LITERARY PURSUITS
The Accidental Humorist
Speaker: Julie Schumacher, Professor of English and Creative Writing, University of Minnesota
Julie Schumacher was the first woman to win the Thurber Prize for American Humor, with her satirical novel, Dear Committee Members. She will talk about her foray into literary comedy, and about the problem of being described by the Star Tribune as "the funniest woman in America."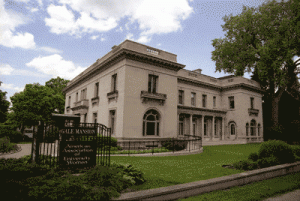 To learn how you can rent the Gale Mansion and use its renowned catering services, go to www.galemansion.com or visit the Gale Mansion facebook page!

AAUW is a top-rated 501(c)(3) charity. Donations are tax deductible. Tax I.D. #41-0414590