There's something for everyone in our programming and events! Please see below for our upcoming programs and…
Not a member yet, but would like to sample a program?  Call 612-870-1661 or email aauwmpls@galemansion.com
September 20, 2021
Opening Day Events
8:45 – 9:30  Welcome Back Social Time
9:30 – 10:30 Preview of the year
A donation in memory of Beth McCabe
Program Topic chairs will give a brief preview of our programs for the coming year.
10:45 – 11:45:  Beyond Dürer: Becoming a Museum Director
Speaker: Dr. Katherine Crawford Luber, Nivin & Duncan MacMillan Director of MIA
Born and raised in Texas, Katie's career path combines traditional educational and work experiences with out-of- the-box aspects that fostered her unique perspectives on management and leadership. Katie will share art and anecdotes from her beginnings as a research associate at the Metropolitan Museum of Art, her dissertation on Albrecht Dürer, her time as CEO of an organic spice company and her museum leadership experiences prior to arriving at Mia in January 20220—at the start of what proved to be a most extraordinary year.
12:00 – 1:15  Lunch
1:15 – 2:15 Cycles of History in Hennepin County
Speaker: John Crippen, Executive Director of Hennepin Museum
We're living in a time of intense change, and yet our shared history continues to inform our world. Crippen will provide an overview of the work of Hennepin History Museum—our neighbor across the park—and highlight stories of how the people of our city and region have managed the interplay between tradition and change, old and new, and how key decisions can have ripple effects through time.
Before coming to Hennepin History Museum in 2019, John spent over 25 years in various positions at the Minnesota Historical Society.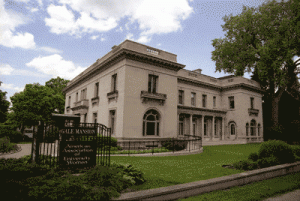 To learn how you can rent the Gale Mansion and use its renowned catering services, go to www.galemansion.com or visit the Gale Mansion facebook page!

AAUW is a top-rated 501(c)(3) charity. Donations are tax deductible. Tax I.D. #41-0414590