There's something for everyone in our programming and events! Please see below for our upcoming programs and…
Not a member yet, but would like to sample a program?  Call 612-870-1661 or email aauwmpls@galemansion.com
Due to concern for the health of our members during this COVID-19 pandemic, ALLAAUW Programs are scheduled on Zoom until further notice.
SADLY, FINAL TUESDAY EVENING MEETING
Tuesday Evening, May 11, 2021
5:15         LITERATURE DISCUSSION       on Zoom
The Genius of Birds by Jennifer Ackerman
Discussion Leader: Ann Vanvick
The Genius of Birds highlights new findings and discoveries in the field of bird intelligence. The book explores birds as thinkers. Birds can rival primates, even humans, in intelligence. They have enormous brains relative to the rest of their bodies. They are capable of abstract thinking, problem solving, recognizing faces, gift giving, sharing, grieving, and meaningful communication with humans. This is a fascinating read. 
7:00          ENVIRONMENT      on Zoom 
Minnesota Birds and Climate Change 
Speaker: Carrol Henderson, Retired Head of Non-Game Wildlife for the Minnesota DNR 
Because of his wealth of knowledge and experience gained during his 40-year tenure in this position, Henderson is very qualified to speak to our subject. He is widely recognized for his accomplishments, among them the Non-Game Wildlife Program check-off on Minnesota tax forms, and a significant role in re-establishing a trumpeter swan population in Minnesota, both of which have been very successful. As our climate changes, more and more challenges are facing our birds and other wild creatures. Fortunately, Henderson is speaking to us during the height of spring migration, as our summer birds return from their winter homes. Look up—you may have an unexpected surprise!   

The Program Committee is  busy planning programs for next years return to the
Gale Mansion. 
Check your email for President Diane Boruff's newsletter to learn how you can help get the programs you want.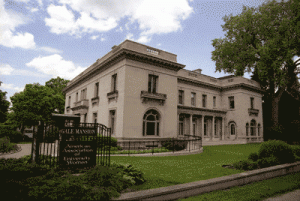 To learn how you can rent the Gale Mansion and use its renowned catering services, go to www.galemansion.com or visit the Gale Mansion facebook page!

AAUW is a top-rated 501(c)(3) charity. Donations are tax deductible. Tax I.D. #41-0414590