There's something for everyone in our programming and events! Please see below for our upcoming programs and…
Not a member yet, but would like to sample a program?  Call 612-870-1661 or email aauwmpls@galemansion.com
Due to concern for the health of our members during this COVID-19 pandemic, ALLAAUW Programs are scheduled on Zoom until further notice.
Monday, March 8, 2021
9:30 – 10:30           WOMEN'S VOICES               on Zoom
Impact and Influence of Wives and Mothers on American Presidents
Speaker: Dr. Phil Kibort, Retired Pediatric Gastroenterologist and former Chief Medical Officer and Vice President of Medical Affairs at Children's Hospital of Minnesota
During his career, Kibort lectured extensively on his medical specialty as well as health care quality and safety while simultaneously pursuing his interest in and fascination with American Presidential history. Kibort, using his knowledge, humor, and a few fun facts, will share with us the top ten most influential presidential wives and mothers. He will also highlight the top five wives and mothers who negatively impacted the president in their lives
11:00 – 12:00                         ENVIRONMENT                       on Zoom
Protecting Nature and Tackling Climate Change
Speaker: Ann Mulholland, Chapter Director for The Nature Conservancy in Minnesota,
North Dakota, and South Dakota
The Nature Conservancy is a global environmental nonprofit working to create a world where people and nature can thrive. Mulholland will give an overview of the works of
The Nature Conservancy globally and here in the
three-state chapter of North Dakota, South Dakota, and Minnesota. One such example is reforesting portions of northeastern Minnesota and along Highway 61.
12:00 noon                   ANNOUNCEMENTS BUSINESS MEETING
1:15 – 2:15                   LITERARY PURSUITS                 on Zoom
Closing Time: Saloons, Taverns, Dives, and Watering Holes of the Twin Cities
Speakers: Andy Sturdevant, Writer
Bill Lindeke, Urban Geographer
Sturdevant and Lindeke will present highlights selected from their book Closing Time. They will tell how the book came about, and acquaint us with photos, stories, memories, discoveries, and observations of their selection of historical saloons and bars from the 50 featured in their book. They will also speak about the current pandemic and its effect on their day-to-day operations, its effect on the historic third spaces of the city, and the workers, servers, and bartenders who have been out of work.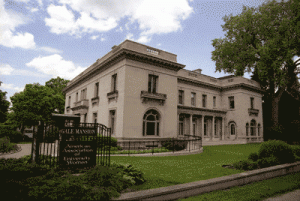 To learn how you can rent the Gale Mansion and use its renowned catering services, go to www.galemansion.com or visit the Gale Mansion facebook page!

AAUW is a top-rated 501(c)(3) charity. Donations are tax deductible. Tax I.D. #41-0414590