There's something for everyone in our programming and events! Please see below for our upcoming programs and…
Not a member yet, but would like to sample a program?  Call 612-870-1661 or email aauwmpls@galemansion.com
Due to concern for the health of our members during this COVID-19 pandemic, ALLAAUW Programs are scheduled on Zoom until further notice.
9:30 – 10:30                FAIR PLAY                        on Zoom
Leaks and Leakers
Speakers: Heidi Kitrosser, Visiting Professor, Northwestern Pritzker School of Law
Robin Kaplan, Professor, University of Minnesota Law School
All administrations leak profusely from the top. This means that they leak politically convenient information. When that is coupled with a historically unparalleled use of the Espionage Act to go after lower-level employees for leaking classified information, it becomes a powerful weapon for the government. It allows them to pick and choose what they want the people to know.
11:00 – 12:00                      EDUCATION                     on Zoom
School Garden Movement in Minnesota
Speaker: Kirsten Stuenkel, Director of Community Education and Communications, Columbia Heights Public Schools (CHPS)
Stuenkel, will talk about the School Garden Movement in Minnesota. She has coordinated the CHPS school garden called Blooming Heights since it began over ten years ago.She also helped to establish the Minnesota School Garden Coalition. This presentation will focus on the purpose of the School Garden movement: how it has developed in Minnesota; how it complements or extends the school curriculum in a variety of subjects; how students respond to these hands-on offerings; and how it incorporates perspectives and agricultural practices from various cultures. Stuenkel will describe the process and practice of encouraging students to be engaged in gardening and appreciating the benefits and outcomes of their involvement.
12:00 noon ANNOUNCEMENTS
BUSINESS MEETING
1:15 – 2:15                  ENVIRONMENT          on Zoom
Making Every Day Earth Day: From its Designation to Daily Life
Speaker: Megan Dobratz, President of Native Sustainability
Dobratz will share a history of Earth Day—why it was created and what it means 51 years later. She'll touch on current sustainability trends, as well as share ideas and opportunities to make every day Earth Day, on both the individual and organizational level.
Tuesday Evening, April 13, 2021
5:15         LITERATURE DISCUSSION             on Zoom

Born a Crime by Trevor Noah
Discussion Leader: Cathy Hovancsak
In this coming-of-age memoir, Trevor Noah, the The Daily Show host, tells of his dangerous youth during the twilight of apartheid in South Africa. His biracial birth was a crime for his mother in South Africa at the time, so he had to be kept hidden indoors during his early childhood. Then with the end of apartheid, he struggled to find himself in this new world with the help of his fearless, rebellious mother.
7:00              WOMEN'S VOICES              on Zoom
From Virginia to Minnesota: My Journey in Journalism
Speaker: Angela Davis, Minnesota Public Radio (MPR)
You love her on MPR, now imagine hearing Angela Davis speak to AAUW.After reporting and anchoring jobs at both WCCO and KSTP, Davis joined MPR in 2018 as the host of the weekday 11:00 a.m. hour, focusing on issues facing Minnesota and its citizens. She will address her journey from the University of Maryland to her current job in broadcasting as a woman and a woman of color. Hopefully, she will share some of her favorite interview moments!
And we will be able to provide some of those questions, so please send them in to Nell.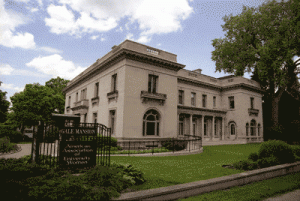 To learn how you can rent the Gale Mansion and use its renowned catering services, go to www.galemansion.com or visit the Gale Mansion facebook page!

AAUW is a top-rated 501(c)(3) charity. Donations are tax deductible. Tax I.D. #41-0414590