Eligibility
Membership is open to those who have an associates degree or equivalent, such as a nursing degree, baccalaureate degree, or a higher degree from a qualified institution.
Local and National Membership
Membership in the Minneapolis, Minnesota branch includes membership in the national association, headquartered in Washington, D.C., and in the state organization. The national association sets priorities and public policy direction for the organization. The State board provides leadership and communication, linking all the branches within the state. An annual state convention is held in Minnesota each year in the spring.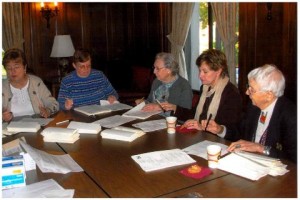 A National Convention is held in Washington D.C. in June of odd-numbered years.
Types of Membership and Dues
AAUW Minneapolis Branch Membership: $310.00
AAUW Minneapolis Branch Evenings Only Membership: $160.00
New Graduate Branch Membership (available to those who have graduated in the past two years): $75.00 (one time only)
Student Affiliate Branch Membership (available to under-graduates): $50.00
To learn more about attending a program, click here. For further information on membership please contact the AAUW office at 612-870-1661 or e-mail aauwmpls@galemansion.com.
Please click here to download our application form.