Applications for 2022 scholarships are closed 2/25/22
Scholarships
Annually, the Scholarship Fund of the Minneapolis Branch of AAUW offers four, four-year scholarships to young women graduating from a Minneapolis Public High School with a G.P.A. of at least 3.0,  minimum ACT of 22, a documented financial need and with the goal of attaining a Baccalaureate degree at an accredited institution. Applicant should show demonstrated ability in higher level coursework (i.e. IB, AP, PSEO, CIS, etc.).
In 2022, scholarship recipients will receive $4,000 annually.  AAUW intends to fund four scholarships in 2022: one is the Nadia Christensen Scholarship and another is a Legacy scholarship funded to honor the memory of Beth McCabe, a long-time member of the Minneapolis Branch of AAUW. If the scholar is a student in good academic standing at her college or university, the scholarship will be renewed each of the following three years. The maximum that each scholar could receive is $16,000 over 4 years.
Applications for 2022 are available in the counseling offices of the Minneapolis Public High Schools.  Completed applications must be entered on line at https://minneapolis-mn.aauw.net/   by Monday, February 22, 2022.   All members of the Scholarship Board read each application to determine the finalists who will be interviewed. The selection criteria are based on grades, financial need, an essay written by the applicant, information from references, and an interview.  Finalists are interviewed in late March or early April by three board members. The recipients are notified no later than May 1.  Scholarship recipients will have an AAUW mentor assigned to them.  Questions may be sent to aauw.mpls.scholarship.application@gmail.com .
History
The Scholarship Fund of the Minneapolis Branch was established to provide financial assistance to Minneapolis Public School women graduates to continue their education with the goal of attaining a Baccalaureate degree at an accredited institution. The fund has come a long way in a very short time.  The first four-year scholarship was awarded in 2001.  In 2012 we established an endowment fund and have achieved a balance of over $500,000 so that we may begin using the earnings to fund at least one scholar per year. In 2021  we awarded 2 new scholarships and renewed 7 scholarships for a total of 9 scholarships. The scholarships are funded by donations from AAUW members and friends.  We have now given 4 years of scholarship to 28 young women from Minneapolis Public Schools (over $350,000 in total).
Congratulations!
Introducing our Minneapolis Branch AAUW Scholars for 2022!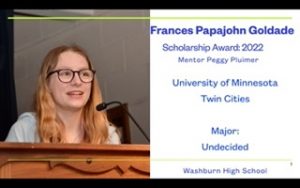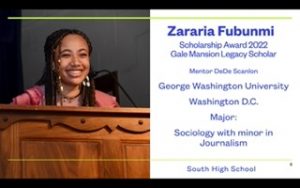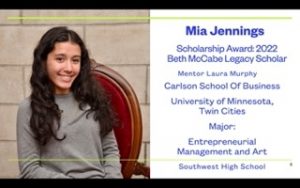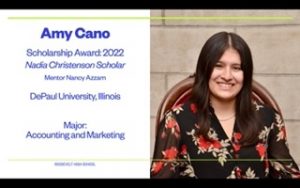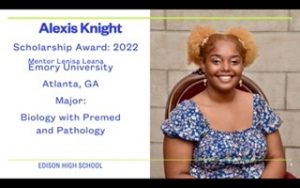 Lily Andersen (South High) and Erika Patino Molina (Southwest High) are the winners of our 2021-22 Scholarships.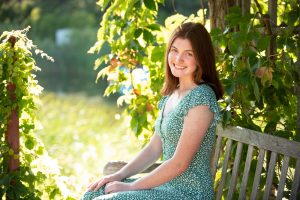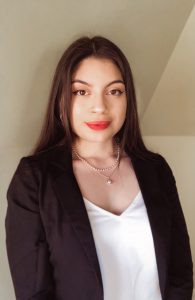 Kao Chang (Henry High) and Eleanor Craig (Edison) are the winners of our 2020-21 Scholarships.
Scholarship Board Members
Ginny Craig, President
Rae Cornelius, Treasurer
Cindy Matsumoto, Secretary
DeDe Scanlon
Janice Bobrowske
Laura Murphy
Lenesa Leana
Nan Beman
Nancy Azzam
Nikki Anonni
Peggy Pluimer